Let's have a look at the information on product that can be seen in system on the page of one product.
Main information on product
Name
Article
Activity
Group
Manufacturer
Store
Link to the product in store
Price
Purchase price
Let's have a look at the right block (without statistics):
On the top you can specify a mark for the product, lower you can see the current available balances. When mousing the product picture, a magnified product picture will appear.
Sales statistics
Let's have a closer look at the sales statistics widget on current product:
You can select a period in the widget within which the product sales statistics is displayed;
In the specified period you can see the graph of sales depending on hour/date/week/month;
Statistics widget can be maximized into more detailed graph that will open in pop-up window.
Block "Trade offers on product"
If products have variants on size, color, but have the same article, this means that the product has trade offers. Difeerent parameters are taken out to a separate column in system in block "Trade offers". The information on trade offers must be considered by developers when integrating a catalogue with system.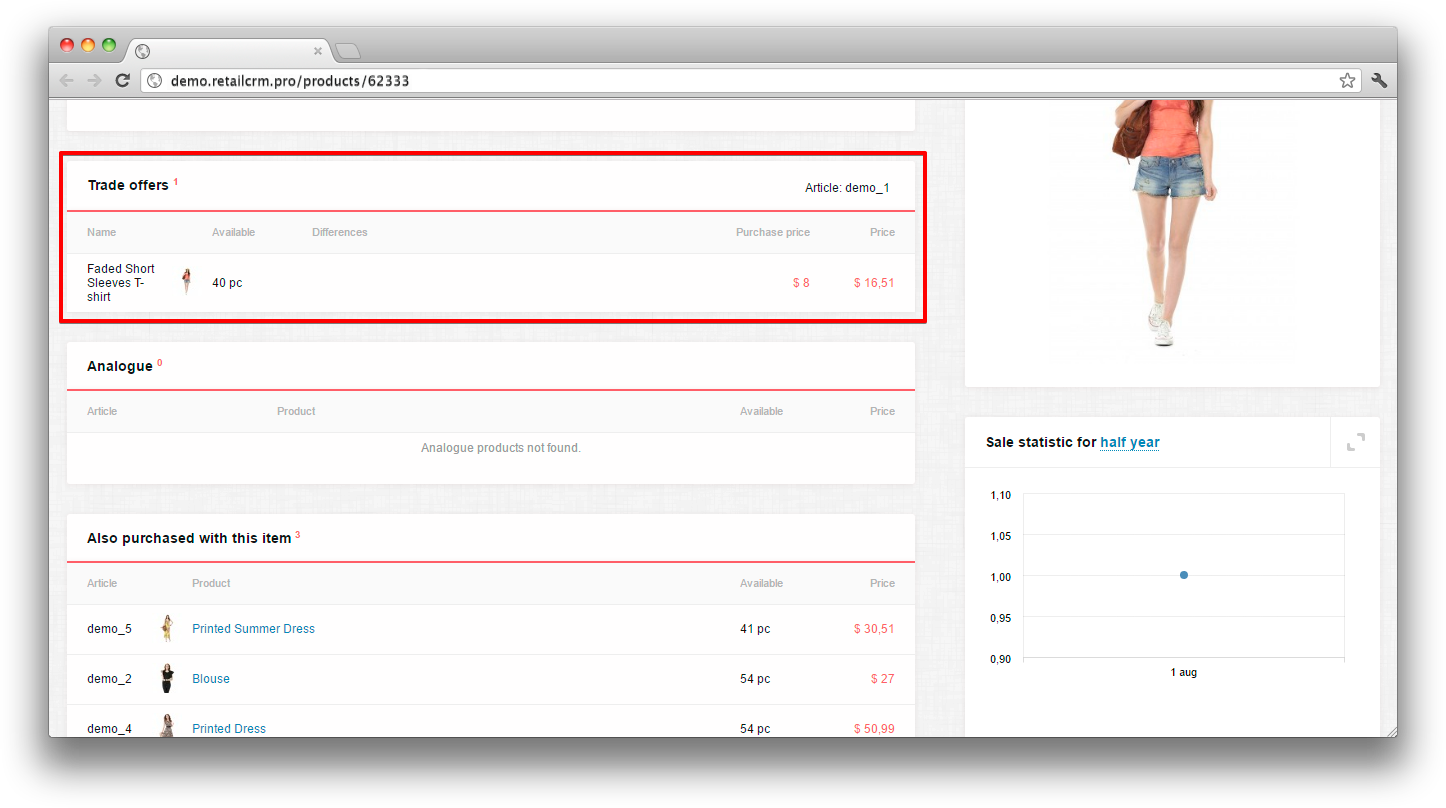 Blocks "Analogue" and "Also purchased with this item"
Further go blocks which aggregate information on product on the basis of system data.
Analogues are displayed automatically - they are products from the same product group as the current product and close in price +/-20%.
In block "Also purchased with this item" displays those products, that are available in orders together with the current item.
Important: The setting "Product output" influences the selection of items in block "Cross sells". The setting influences as system recommendations, as well as RetailRocket ones.
Simultaneous view of product by managers
By the simultaneous view of goods by managers the lower part of the screen will have an inscription about the fact, that the product is viewed by other manager.